#79. Adults age 18 and older with a bachelor's degree earned an average of $51,554 in 2004, those with a high school diploma earned $28,645, and those without a high school diploma earned an average of $19,169.


Stay Busy Over Break For Cheap
Fight off boredom with these ideas.
Money is tight around the holidays. You've got gifts to buy, friends to see, and relatives to avoid. That doesn't mean you have to be holed up in your room the whole time. Here are some budget-friendly things you and your friends can do during the holidays to keep yourselves busy and not empty your wallets.
Build a website. Having a personal website might not seem that exciting, but building a website that you can use to showcase work and as a supplement to your resume is a big bonus. Plus, basic website building skills are almost as important as knowing how to type these days.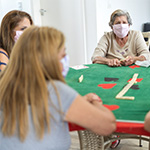 Take an online class. Just because you have some time off from school doesn't mean you have to stop learning. Courses like "The Science of Well-Being" or "CS50's Computer Science for Business Professionals" are useful in life, no matter what your professional goals.
Winter hiking. If you haven't ever done it, try it. Especially if there is fresh snow in your area. It's amazing how quiet things are with a few inches of new snow. You just finished up a second strange and stressful semester of school, take the time to wander and get lost in your thoughts. The lack of foliage or other seasonal changes can really alter the way an area looks, so even a place you're familiar with looks totally new.
Movie marathon. Pick films you haven't seen before. Or watch an unofficial trilogy and find the link between the films. Or follow a director or actor's career over multiple films.
Build a budget. Learning how to manage your money now is going to have a lasting impact on the rest of your life. There are plenty of apps to help, or you can go old school and find a pre-made excel template online.
Apply to college. If you're a senior and haven't started yet, now's a good time. You have free time without the pressures of school or athletics schedules. Practice some of the essay or personal statement sections. Your de-stressed brain might come up with something stellar!
Apply for scholarships. Like applying to schools, this is a perfect time to apply for scholarships. With money being tight for a lot of people right now, scholarships could make or break your first-choice school as a viable option. Yeah, it's going to take some effort, but it will pay off in the long run.
Host a fundraiser. Helping at a food bank in person might not be the best option for you, but that doesn't mean you can't help. Most social platforms have some way to raise money for charity. Find one you like and maybe make a video on why it's important to you and then share on your social media.
Learn a new card game. There are a few games that have lost popularity over the years, but the chances of your grandparents enjoying them are high. If your grandmother can learn Zoom, you can learn to play cards with her. She is your grandmother; she supplies you with socks. Show some respect; learn to play gin rummy.
This list isn't a complete list, but it is a starting point to think about some things you can do to save money but still have some fun. Talk to friends and family, see if they have other suggestions. Even if your dad does suggest you clean the garage, maybe you'll find something cool in there. Don't make yourself so busy you burn out—enjoy the downtime, but make use of it.